My dogs are pigs. If they didn't bark, I could swear they have spiral tails and a pink snout. I swear when I feed them, you'd think they'd never eaten a day in their life. Dogs, like us- love to munch around on snacks as well. Did you know that most of the store bought treats contain a ton of preservatives and calories? Dogs can get overweight and unhealthy just as we can.
           This is Harley, my Alaskian Malamute/Lab mix.
We can better what our animals eat by feeding them organic treats and food. They aren't piled high with artificial colorings or stuffed with preservatives. Prosperous pooch is an amazing Etsy site dedicated to homemade organic dog treats ran by Monica Bojt.
The packages arrived very quickly after I spoke to her, and they were packaged very well. They had "DO NOT CRUSH" on the outside of the package. Because you know for a fact if your mailman doesn't see that, they will definitely try and shove it in your mailbox, or at least mine does.
We were sent Pumpkin Spice & Thanksgiving Feast.
Pumpkin Spice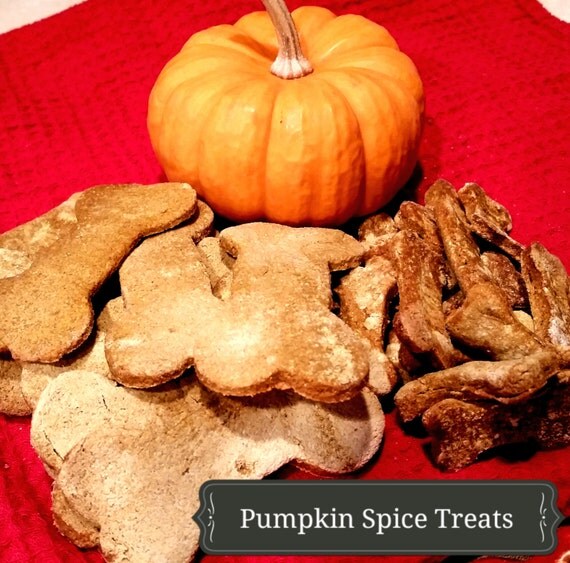 Materials: oat flour, brown rice flour, pumpkin, molasses, cinnamon, allspice, ginger, flax seed, peanut butter, ascorbic powder
Cheyanne, Spunk, and Buddy are very big fans of pumpkin. They love to have it added to their food, and is pretty nutritious for them too—so win.win. When I seen that the treats were pumpkin spice, I knew they'd love them. Harley, I wasn't so sure about—he wasn't around last Fall because he wasn't born yet. He thought they were alright, but he didn't seem to love them like the other dogs did.
They smell amazing, like freshly baked pumpkin biscuits. That's because that's what they are, although the dog variety. They feel crispy and are easy to break, so they aren't hard on your dogs teeth at all. Even the smallest of dogs won't have a problem chewing these up.
Pumpkin everything is everywhere now, especially with Halloween just ending and Thanksgiving coming. I've seen so much pumpkin floating around, some stuff I wasn't even sure could be pumpkin related. Lattes, Cookies, Breads, and even butter & Pringles (sayyy what?). People proved me wrong though, lol.
So, give your 4 legged friends some pumpkin treats while you're devouring that amazing pumpkin pie or something else pumpkin spiced.. shh.. they won't tell.
You can buy them in two weights—4 oz. for $3 or 8 oz. for $5.
Thanksgiving Feast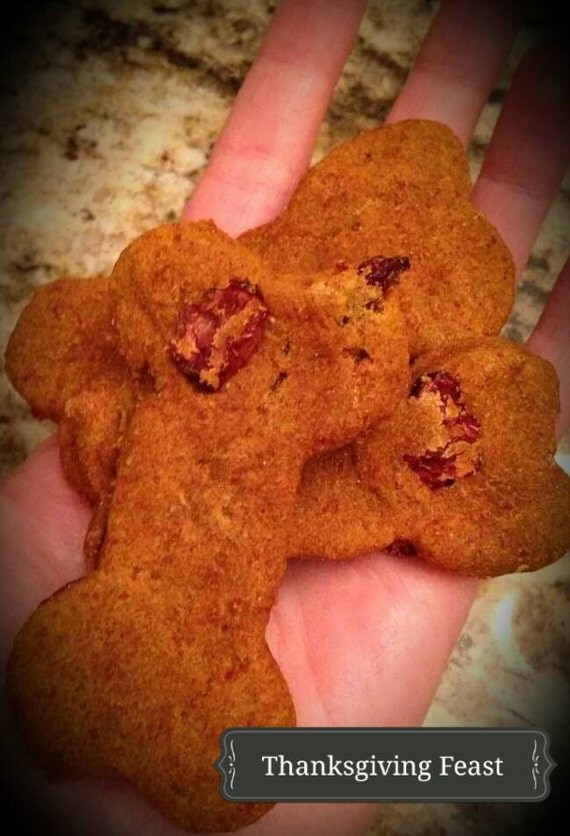 Materials: oat flour, turkey, brown rice flour, ground flax, chicken broth, dried cranberries, carrots, sweet potatoes, honey, rosemary, cinnamon, ascorbic acid
Harley, Cheyanne, Spunk, and Buddy gobbled these up. Harley was a huge fan of these. I swear I wish I could have gotten a picture of how high he was jumping to retrieve the treat. I wasn't even sure he could jump that high, lol.
They smell delicious even from a human standpoint. They smell like cinnamon mostly; I can only describe it as cinnamon bread or maybe a cinnamon bun without the icing. You can see the dried cranberries in the texture, and they are easy to crumble as well.
The dogs love these and they can chew them very easily. They feel like a hardened flat biscuit and "snap" when they are broken. They are sealed very well, and keep for a long while after they are purchased. We give both these 2 paws up! (well really 8 paws up, but still) lol.
These would be the perfect stocking stuffer for your four legged friends!
You can buy them in two weights—4 oz. for $5 or 8 oz. for $9.
Homemade, Preservative Free and Organic!
Did you know that wheat, corn, and soy are one of the number one causes of allergic reactions in dogs? Not only does it cause allergies, it is also harder for dogs to digest as well as a filler for commercial products used to cut costs. That's why Prosperous Pooch uses NO wheat, corn or soy products in any of the products offered.
Does your dog have a special dietary issue? Let Monica know and she can definitely find you a treat that will be healthy and tasty for your pet.
Connect with Prosperous Pooch:
About Monica:
Disclosure: Stylish Southern Mama received samples for her 4 dogs; all opinions are honest.